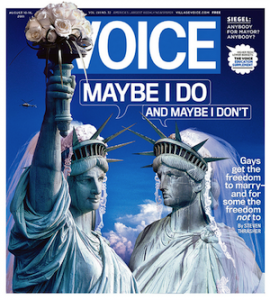 Yesterday I was deeply honored  to be notified by the National Lesbian & Gay Journalists Association that they are naming me NLGJA Journalist of the Year for 2012. They will present the award to me at the UNTY Convention in Las Vegas on August 3rd, where I will also make a speech. My good friends Chris Geidner and Michael Luongo are recipients of other NLGJA awards.
The award being presented to me is based upon five feature stories I wrote in 2011 for the Village Voice, the New York Times, and Out. They are:
"Diaz Family Values" published in the Village Voice June 22, 2011 (photos: C.S. Muncy)
"Maybe I Do and Maybe I Don't" published in the Village Voice August 10, 2011 (photos: C.S. Muncy)
"Three Kids, Two Dads, One Uncle" published in Out January 9, 2011
"Paris Is (Still Burning)" published in Out May 22, 2011 (photos: Kevin Amato)
"A Church. A Shelter. Is It Safe?" published in the New York Times November 4, 2011
I am extremely touched to be receiving this award. NLGJA gave some background, along with some very kind words about my writing, in a press release:
NLGJA's Excellence in Journalism Awards were established in 1993 to foster, recognize and reward excellence in journalism on issues related to the LGBT community. In addition to Journalist of the Year and the Sarah Pettit Memorial Award for Excellence in LGBT Media, awards will be presented for excellence in news writing, feature writing, opinion writing, local television, network television, radio, online, HIV/AIDS and student journalism.
The NLGJA 2012 Journalist of the Year is Steven W. Thrasher, a staff writer for the Village Voice and writer for the New York Times and Out. Whether it is about multigenerational gay families, a homeless shelter for LGBT youth, or a controversial political dynasty involved in New York's same-sex marriage battles, Thrasher's work succeeds at being interesting and unexpected. A keen interviewer and beautiful writer, his willingness to move beyond the usual in covering LGBT lives hit its peak this year.
I am extremely indebted to many people in receiving such a recognition for my work: to my editors at the Village Voice, the New York Times, and Out; to my photojournalist collaborators C.S. Muncy and Kevin Amato; and to my readers.
But most of all, I am deeply indebted to the men, women and children who have shared candidly and bravely with me about their lives. In opening up to me so intimately, they have allowed me to share what it is like to be an LGBT person in America at this very exciting time in history. From the victories of marriage and open military service, to the challenges of a multi-generational gay family, to the tragedies of LGBT youth homelessness, people from all walks of life have opened up their tales and their hearts to me.
I cannot think of any way to repay them, other than by encouraging you to read their stories. Please read them for what, I hope, will be a multi-faceted portrait of what it's like to be LGBT in America right now. If I haven't gotten in the way too much, you'll read five tales of extremely different people with struggles ranging from how to wed to how to stay off the street.
What a year 2011 was. It was something else to walk and talk with three generations of an Hispanic dynasty as they wrestled over gay marriage; with two blind gay men who fought for the right to marry, only to decide it wasn't for them; with a gay great-uncle who moved in with his gay nephew, his partner and their three kids; with HIV positive ballroom drag kids who sell their meds on the black market to buy clothes; and with homeless LGBT kids living in a shelter the city and state have largely ignored.
My heart feels very full just reflecting on the conversations I had with people in researching these stories. Thank you for reading, and for allowing me to have the most satisfying, rewarding, wonderful job.