Awards
Journalist of the Year 2012 from the National Lesbian & Gay Journalists Association.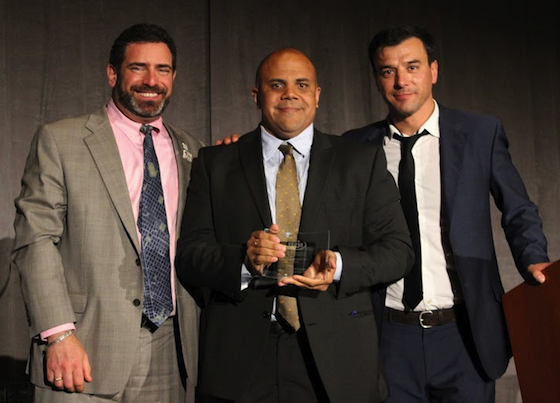 Presented for writing from 2011, "NLGJA's Excellence in Journalism Awards were established in 1993 to foster, recognize and reward excellence in journalism on issues related to the LGBT community…The NLGJA 2012 Journalist of the Year is Steven W. Thrasher, a staff writer for the Village Voice and [freelance] writer for the New York Times and Out. Whether it is about multigenerational gay families, a homeless shelter for LGBT youth, or a controversial political dynasty involved in New York's same-sex marriage battles, Thrasher's work succeeds at being interesting and unexpected. A keen interviewer and beautiful writer, his willingness to move beyond the usual in covering LGBT lives hit its peak this year."
Winner, 2011 AltWeekly Award for Feature Story  for "Bad Lieutenant." The Voice profile of Lt. Dan Choi won Second Place from the Association of Alternative Newsweeklies, in the category of publications with a circulation over 50,000.
Winner, 2010 James Aronson Award for Social Justice Journalism from the Hunter College Department of Film and Media. The award was presented for Village Voice Media's "Amongst U.S." series, which featured "Ronnie's Kids."
Winner, 2010 Courage Award from the Anti-Violence Project. The Courage Award is given by the oldest organization in the United States which combats LGBT violence to individuals and organizations whose work AVP  finds inspiring. In 2010 the award was given to the Paul Rapoport Foundation and to journalists Duncan Osborne and Steven Thrasher. Activist Robert Pinter presented the award to Steven at the Prince George Ballroom on October 18, 2010.
Staff Writer, Runnin' Scared Village Voice news blog, which won First Place for the 2010 AltWeekly Award for Best Group Blog (Circulation 50,000 and Over)
Team Member, design firm workshop/apd, which won Brad Pitt and Global Green USA's Sustainable Design Competition for New Orleans. The international competition led to several sustainable homes being erected in the Ninth Ward.
Team Member, design firm workshop/apd, which received a Citation for Architectural Digest's High Density on the High Ground competition to rebuild New Orleans.
Winner, $5000 Sloan Foundation Writing Fellowship for Steven Thrasher's screenplay Spilled Blood, awarded by the Alfred P. Sloan Foundation
Winner, Screenwriting Award for Steven Thrasher and Peter Frintrup's NYU thesis film The Test, from the New York Magazine First Run Film Festival
Winner, Warner Brothers Production Award for Steven Thrasher and Peter Frintrup's NYU thesis film The Test, awarded by New York University's Tisch School of the Arts